MISSION ULJA FUNK
Mission Ulja Funk. Germany/Luxemburg/Poland 2021. Director: Barbara Kronenberg. Screenplay: Barbara Kronenberg. 90 Min. Feature film. Ger. OV w/Eng. sub. Suitable from age 6. Recommended from age 8.
A TURBULENT ROAD MOVIE FULL OF BIZARRE MOMENTS TOLD WITH PLENTY OF HUMOR ABOUT FAMILY AND FRIENDSHIP
Astronomy is Ulja's grea­test pas­si­on. Even in the children's ser­vice of her Russian-German parish, her enthu­si­asm for sci­ence is unstoppable. There she pre­dicts the crash of a meteo­ri­te she dis­co­ver­ed in Belarus, but no one wants to belie­ve her. So, wit­hout fur­ther ado, the 12-year-old and her class­ma­te Henk set off for the East in a dis­card­ed hear­se to obser­ve the crash of the meteo­ri­te. However, her fami­ly, the pas­tor and half of the parish are hot on their heels. With ple­nty of wit and pace, this tur­bu­lent and amusing road movie is an enjoya­ble enter­tain­ment for all ages.
Available in cine­mas | via Video-on-Demand (VoD) exclu­si­ve­ly for school clas­ses and groups
FR, 1.10. | 11 a.m. | Caligari FilmBühne
SU, 3.10. | 2 p.m. | DFF Cinema
MO, 4.10. | 10:45 a.m. | Cinéma
WE, 6.10. | 2 p.m. | DFF Cinema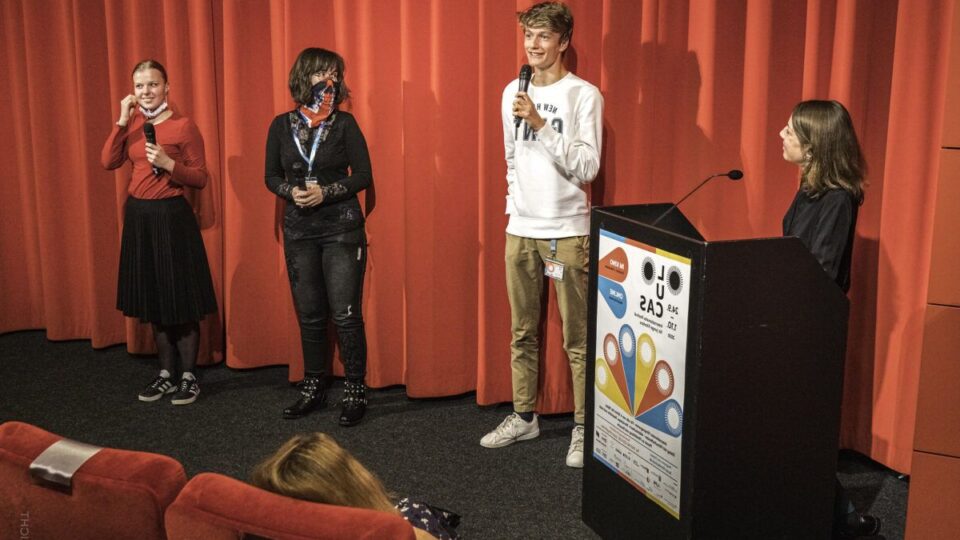 Filmography
2020 MISSION ULJA FUNK | 2015 DIE BALLADE VON ELLA PLUMMHOFF
Biography
Barbara Kronenberg stu­di­ed screen­wri­ting and direc­ting at the Academy of Media Arts in Cologne. Her gra­dua­ti­on film DIE BALLADE VON ELLA PLUMMHOFF won seve­ral awards at inter­na­tio­nal fes­ti­vals and was nomi­na­ted for the First Steps Award. MISSION ULJA FUNK is her debut film.