SONNE
Sonne. AT 2022. Director: Kurdwin Ayub. Screenplay: Kurdwin Ayub. 87 min. Feature film. OV. Suitable from age 16. Recommended from age 16.
Filmguest online: Director Kurdwin Ayub on 8.10.2022 at DFF Cinema
TIK-TOK POSES IN HIJAB – THREE FRIENDS IN SEARCH OF THEIR OWN IDENTITY
Yesmin, Bella and Nati dance to REM's "Losing My Religion" in hijab. When a video of them shows up on Youtube, the three fri­ends beco­me famous among Kurdish Muslims over­night. While swit­ching bet­ween appearan­ces in hijab and going to wild par­ties, Nati and Bella are fasci­na­ted by the for­eign world, howe­ver, Yesmin, who is the only Kurdish one, beg­ins to ques­ti­on her own cul­tu­re. The skillful direc­tor Kurdwin Ayub trans­la­tes the Instagram aes­the­tic into cine­ma. The pace of social media is pal­pa­ble in SONNE. It reflects the insta­bi­li­ty of youthful iden­ti­ties. A sto­ry of rebel­lious young women who, bet­ween self-dra­ma­tiza­ti­on and cru­de sayings, search for a sen­se of belon­ging. (JK)
Filmography
2022 SONNE | 2020 LOLOLOL (short film) | 2018 BOOMERANG (short film) | 2016 PARADIES!
PARADIES
Production com­pa­ny
Ulrich Seidl Filmproduktion GmbH
World sales / Distributor
Neue Visionen Filmverleih GmbH
Biography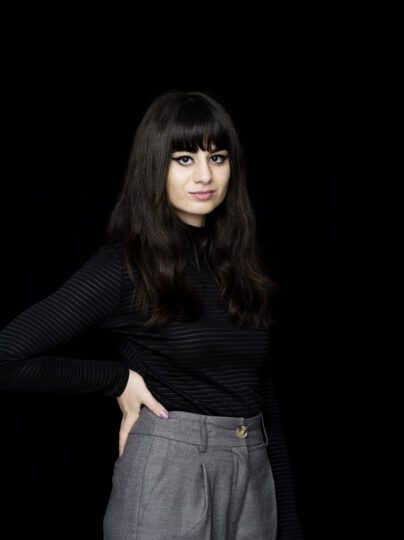 Kurdwin Ayub was born in Iraq and has stu­di­ed pain­ting, ani­ma­ti­on and per­forming arts in Vienna. For her docu­men­ta­ry PARADISE! PARADIES! she recei­ved the award for Best Cinematography at the Diagonale – Festival of Austrian Film and the Carte Blanche Award at the Duisburg Film Week. SONNE was pre­mie­red at this year's Berlinale.