BLAZE
Blaze. AU 2022. Director: Del Kathryn Barton. Screenplay: Del Kathryn Barton, Huna Amweero. 101 min. Feature film. OV. Suitable from age 16. Recommended from age 16.
Filmguest online: Director Del Kathryn Barton on 9.10.2022 at DFF Cinema
VISUALLY STUNNING AND MOVING — WITH THE HELP OF HER IMAGINATION, A GIRL FINDS HER FOOTING AGAIN IN THE WORLD AFTER A TRAUMATIC EXPERIENCE
It is a shock for Blaze, a moment that lea­ves a vio­lent trace. One day she wit­nesses an act of vio­lence. Terrible night­ma­res haunt the 12-year-old. In court they do not belie­ve what she says. Has her ima­gi­na­ti­on run away with her? Her rage at the adults awa­kens a litt­le ima­gi­na­ry dra­gon, who is just as angry as she is. He offers sup­port whe­re the­re is no sup­port. Between trau­ma­tic expe­ri­en­ces and fan­ta­stic sequen­ces, the artist Del Kathryn Barton tells an ode to fema­le cou­ra­ge. The modern fable con­vin­ces with impres­si­ve visu­al effects and an out­stan­ding acting per­for­mance. (SSt)
Filmography
2022 BLAZE | 2017 RED (short film) | 2015 OSCAR WILDE'S THE NIGHTINGALE AND THE ROSE (short film)
Production com­pa­ny
Screen Australia in asso­cia­ti­on with Screen NSW, Fin Design and Spectrum Films
World sales
mk2 film
Biography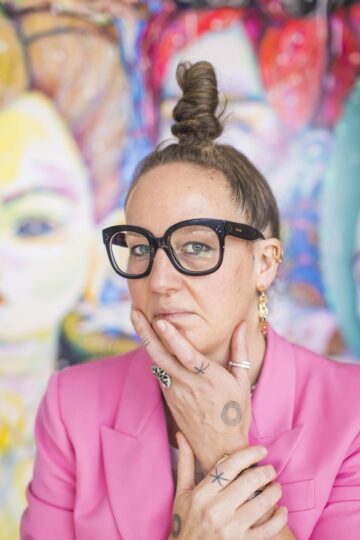 Del Kathryn Barton is an Australian pain­ter and film direc­tor. Her works have been exhi­bi­ted in muse­ums in Australia and the USA. In 2008 and 2013 Barton recei­ved the Archibald Prize, which is the most important award in the field of por­trait Painting in Australia. Her short film OSCAR WILDE'S THE NIGHTINGALE AND THE ROSE pre­mie­red at the Berlinale.