RAQUEL 1:1
Raquel 1:1. BR 2022. Director: Mariana Bastos. Screenplay: Mariana Bastos. 90 min. Feature film. OV w/Eng. sub. Suitable from age 12. Recommended from age 16.
GERMAN PREMIERE | Filmguest at the cine­ma: Director Mariana Bastos on 7.10.2022 at DFF Cinema
A MYSTICAL THRILLER DRAMA WITH CRITICISM OF RELIGION AND FEMINIST SUBTEXT
Raquel ven­tures on a new start with her father: the move to a small Brazilian town brings the reli­gious teen­ager new fri­ends who fami­lia­ri­ze her with the local church. But the deeper she stu­dies the Bible ver­ses in which women are sub­or­di­na­ted to men, the more doubts are rai­sed in her mind. Not ever­yo­ne in the con­gre­ga­ti­on likes it. When her body sud­den­ly shows stran­ge signs, events seem to esca­la­te. The mys­ti­cal thril­ler dra­ma explo­res Raquel's pain­ful trau­ma, which is con­nec­ted with the vio­lent death of her mother, with the use of strong sound design, cri­ti­cism and femi­nism. (HA)
Filmography
2022 RAQUEL 1:1 | 2018 ALUGMA COISA ASSIM | 2014 SETE ANOS DEPOIS (short film) | 2007 PERTO DE QUALQUER LUGAR (short film)
Production com­pa­ny
Claraluz Filmes
World sales
O2 Play
Biography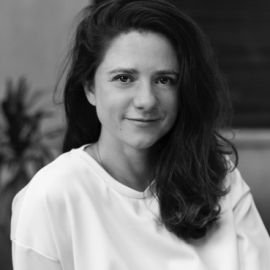 Mariana Bastos' short films have been scree­ned at num­e­rous inter­na­tio­nal film fes­ti­vals. Her fea­ture film debut, SOMETHING LIKE THAT, was direc­ted tog­e­ther with Esmir Filho. Previously, she work­ed on the series MARIAS in 2016. In addi­ti­on, Bastos foun­ded the "Residencia Base", an artist resi­den­cy for script­wri­ter in Brazil.